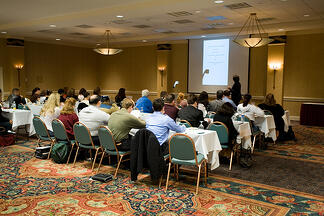 If you are considering adopting a learning management system (LMS) and need to build a business case, then return on investment (ROI) is top on your list of things to find out. The question of ROI for an LMS depends on what method your company is currently using for training. We'll explore some of the main differences below and in subsequent posts.
ROI for LMS vs. face-to-face training
If your company is not currently using an online method for enrolling, training and tracking learner progress, the ROI equation is simple to generate and makes LMS-based training look quite attractive. Here are some of the cost items to take into consideration.
How many people in your organization (new or reoccurring) do you train per year?
What is the average cost of each course?
Do you pay people to travel to courses?
Do they require accommodation?
What is the annual cost for an LMS that will fit your requirements?
Let's take a look at these considerations using a scenario. Say you have three job sites in Los Angeles and one site in San Diego.
100 people per year take two, two-day courses @ $595 per person = $119,000
50 people on average have to travel to a site in order to attend at an average travel cost of $0.60 per mile and with an average travel distance of 30 miles = $1,800
25 of those 50 travelling require accommodations during the course @ $130 per night = $6,500.00
The total for 100 people to attend two, two-day courses in person = $127,300
Costs would be higher if air travel was necessary and we're not including the cost of food in this calculation. In addition to these costs, the administration costs of keeping track of who has attended, completed and passed training need to be added. Record keeping may be manual, or online through a human resource management system.
By way of comparison, an average annual cost for a hosted LMS system based on Totara or Moodle is around $20,000 to $30,000 - depending on what add-ons you choose. A hosted LMS will accommodate far more learners than 100—we have client with nearly 100,000 learners—and you can run as many courses as you like, make them available 24/7/365, and receive real-time reporting on learner progress.
What this does not include is the cost of course development or purchase if you do not own the content. Most companies however have proprietary systems they need to ensure their employees are competent with, so many develop their own courses, or contract with instructional developers to produce on their behalf. When paid for on this basis, a course can cost anywhere from $10,000 to $100,000 – depending on length and level of detail involved. When you have paid for course development, you can use the course any number of times you like -- reducing the per student learning fee significantly over time. The cost for the platform does not change no matter how many courses you run in a year.
We realize there are many variables that will affect the cost (and therefore the ROI) of implementing your LMS, such as your industry, compliance requirements, whether you are a public or private institution and the size of your company, among others. Our next blog in this 3-part series on LMS and ROI will look at the costs between different LMS platforms—e.g. open-source vs. proprietary software.
Need to get an idea of how much you could be saving with a professionally hosted LMS? Contact our LMS experts to find out more. If you're looking for more details on return on investment, take a look at our Guide to Assessing ROI here.